Dutch Minister Hoogervorst was caught in the act a while ago. When opposition leader Bos criticized his plans he made a vomiting gesture (dutch: 'ik kokhals ervan') which wasn't taken lightly.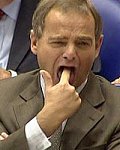 "Vanochtend heb ik een gebaar gemaakt dat niet past bij mijn functie en ik wil daarvoor uw Kamer en in het bijzonder de heer Bos mijn excuses aanbieden" , zei Hoogervorst. "Het was een stommiteit" (Telegraaf, wo 21 sep 2005 / RTL 4).
See also the SLN sign 'misselijkmakend'.
Tags: